The sense of taste is universally recognised for its evocative potential, empirically linked to memories of experience and place. With Bitto e le Stelle 2023, l'Agriturismo La Fiorida di Mantello wanted to take this potential and launch it into the future, taking the 500 guests at the event along an engaging route that unites Milan and Cortina, co-hosts of the 2026 Winter Games.
Guided by a team of 18 Chef along an itinerary that incorporates the most representative of locations, starting from Milan then taking in Brianza, Lake Como, Valtellina, the Dolomites and finally Cortina, it's a route which will take centre stage internationally for the most important winter sports event. From these same localities, in tasting form, are a host of proposals that talk of both tradition and territory, of quality and sustainability.
Sustainability is also a resource for local ecosystems
The entire project of La Fiorida agriturismo is based on sustainable development inclusive of its own activities and of the integral local economic system.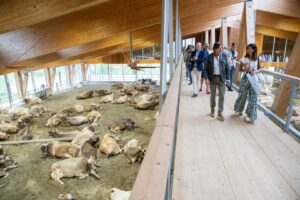 "The concept of a quality supply chain was developed from 'kilometre zero' of the farm itself, and was then expanded to include breeders, agri-food producers and typical local manufacturing of Valtellina and the Lario areas for the appreciation and enhancement of their produce within our catering and hospitality. Hence we'd like very much to provide guests with a complete understanding of the richness that our territory can express, whilst at the same time supporting those who cultivate the ancient vineyards and orchards, tend the mountain pastures and fish the rivers and lakes, thus keeping the local economy and community alive, encouraging tourism and preserving the locality itself. For us, these are the vital components of the concept of 'broadened sustainability', alongside a commitment to a respect for animal welfare and the consolidation of energy self-sufficiency thanks to undertakings completed in the last two years".
Thus Viola Vanini, at the helm of La Fiorida, summarises the commitment with which the agriturismo company has established itself over 20 years as one of the most attractive destinations, one in sync with the nature of Lombardian tourism and proudly embracing in 2021 and 2022 the recognition of the Michelin 'Green Star', awarded for outstanding attention to ethics and sustainability.
In confirmation, by 2024 La Fiorida will be able to go even beyond the elimination of external energy supply. The gradual introduction of extensive photovoltaic surfaces, alongside new wood chip and biogas systems all inaugurated in the last 12 months, will cover this year alone 80% of the energy required for the entire structure, whilst next year it will achieve a production equal to 120%. This means that La Fiorida will be completely self-sufficient and will be able to return the energy surplus to the grid. And all produced in totally green fashion.
An improvement in efficiency which will naturally lead to a lower impact on energy costs, thus freeing up resources to be invested in kitchen renovation and an expansion of guest accommodation, part of a continuous refinement of customer services.
Tourism: public/private synergy driving development forward
The 2026 Winter Games will place the territorial hosts centre stage just as much as the athletes themselves. For this very reason, tourism will feature as a key factor both for the organisation and for accommodation capacity, and in terms of how successfully the areas will be able to launch themselves beyond the staging of the actual competitions. And to capitalise fully on the opportunity requires the will and energy of local communities, no exceptions, to map out a future giving generations to come a dream to build on.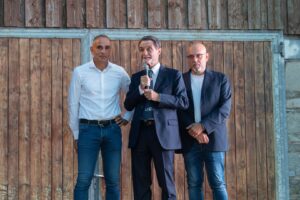 Such was the vision of Plinio Vanini, La Fiorida's founder, who opened the evening, "We live in an era in which it is people who represent the resource most vital and difficult to find. This is because the capacity to nurture a credible dream is sadly lacking, particularly in the eyes of the younger generations. Considering embarking on entrepreneurial adventures within the tourism/accommodation sectors requires vast resources, often going beyond the limits of even established businesses. Hence the need to establish a public/private synergy that can streamline bureaucracy and make resources accessible for investments in the development of quality accommodation, acting as the engine of a virtuous tourism economy. Supporting businesses in this sector means supporting local employment and related activities, especially given that thanks to the Winter Olympics, our localities and produce will have a once in a lifetime promotional opportunity".
A more timely message than ever, for a sector in a degree of turmoil as the lighting of the Olympic flame in February 2026 approaches, appreciated by the President of the Lombardy region. Attilio Fontana and Massimo Sertori, council member for local authorities, mountains, energy resources and water usage of the Region who were guests at the event.
President Attilio Fontana responded to Plinio Vanini's reflections "The Lombardy region has adopted a model that constructively encourages collaboration between the public and private sectors. When there are issues to resolve or projects to build on, we are used to seeking and implementing solutions together. And it's exactly the same with the Olympics: ideas and development programmes are arleady up and running and there remains time and space for their promotion. We are determined that what proves sustainable will receive support and resources".
"Willingness, tenacity and dedication bring results. And La Fiorida is a splendid example of typical Valtellina and Lombardy determination which has ensured that the 2026 Winter Games were designated here in the Italian Alps," underscored council representative Massimo Sertori, who referring to the variety of prestigious Chef present, added "thanks to the Public water authorities we have at our disposal economic resources that can provide the relaunch of tourism within our territory. The adventure must now be jointly pursued within the fabric of both businesses and operators".
And to emphasise the importance of the young who choose training in tourism for their future, Bitto e le Stelle 2023 will make a tangible contribution to their studies, having established a fund base which will permit the provision of 3 scholarships in favour of students engaged in training/educational institutes on hotel/tourism courses within the province of Sondrio: 'Alberti' in Bormio, 'Crotto Caurga' in Chiavenna and 'PFP', with bases at Sondrio and Sondalo.
Food and wine itinerary endorsed by 18 Chef
Gianni Tarabini, Executive Chef de La Preséf – Michelin star , with Davide Maddalena, Stefano Piazza and the La Fiorida brigade brought together 15 guest Chef for Il Bitto e le Stelle, among the most representative interpreters of quality Italian cuisine, originating from the localities singularly touched by the sporting fil rouge that links Milan, Cortina and the venues of the 2026 Winter Olympic competitions.
Guests at the event were thus able to savour the creations of Tommaso Arrigoni (Innocenti Evasioni), Alessandro Negrini (Il luogo di Aimo and Nadia) and Claudio Sadler (Ristorante Sadler) da Milano; Fabio Silva (Derby Grill Ristorante) e Lorenzo Sacchi (Il Circolin) da Monza; from Valtellina and the Alto Lago di Como Roberto Tonola (Lanterna Verde), Andrea Fugnanesi (Stua Noa Fine Dining), Andrea Galli (Dolce Passione), Maurizio Santin, Alfio Colombo (Spluga Pizzeria Contemporanea) and Romeo Landi (Ristorante Beccaccino); dal Trentino-Alto Adige Filippo Sinisgalli (Zur Kaiserkron), Stefano Croce (Agriturismo El Mas) and Antonio Lepore (Stube Hermitage).
Also amongst the company was Enrico Derflinger, president of Euro-Toques Italia, one of the most characteristic symbols of Italian chefs.
Each featuring proposal was enriched thanks to a careful pairing with a selection of Valtellina wines, introduced by the producers themselves, positioned adjacent to the appropriate Chef, and thus creating the possibility of a natural dialogue and an even more engaging approach to the experience of tasting.
And this is how chef Gianni Tarabini summed up the importance and consequence of what has inspired Il Bitto e Le Stelle 2023: "The evening's creations were personal interpretations of respective cultures and culinary traditions. They were all united by an ingredient chosen from within the dairy production of La Fiorida, to emphasise the close link between breeding that respects animal welfare, the quality of the milk and its supply chain, also well recognisable in the excellence of the food and wine on offer. A meeting of Chef of such a high calibre is clearly a special occasion and much appreciated by guests. Furthermore this year must be the first that such a rich diversity on offer has permitted everyone to understand just how food and wine can emotionally represent the territories and their wealth of produce: this is a key aspect for a memorable experience for visitors to the 2026 Games from the world over. And from this prospective, the choice to combine today's event with a fundraiser aiming to dedicate scholarships to institutes in the province that provide training within the hospitality sector is of considerable value, and all part of an initiative that unites me and all other Chef who helped to bring this evening to life".